A Benign Price Cycle For Gold
There's a famous saying among natural resource traders that goes, "Rising prices cure rising prices," and explains the cyclical nature of commodities. In other words, a bull market in any given commodity normally encourages an increase in the supply of that asset, in turn leading to lower prices. That has often been true for gold, as well, since gold bull market cycles typically lead to higher production among the leading mining companies.
This time around is proving to be an outlier, however. Gold's latest price cycle is decidedly more benign in that it has inspired several leading miners to actually curtail production and expansion efforts, rather than increase them, based on pandemic-related concerns. As we'll discuss here, this development carries decidedly bullish intermediate-term (3-6 month) implications for not only the physical metal, but for the mining stocks as well.
Even though gold prices have soared 30% this year, seven of the world's 10 leading gold miners (based on updated guidance) have no plans to take advantage of the metal's higher prices by increasing production. According to reports, top producers like Newmont (NEM) and Barrick (GOLD) are more concerned with investor returns than they are in boosting output through mining and exploration efforts. The increasing focus on cost containment in COVID's wake has been ascribed as a key reason for the miners' reticence.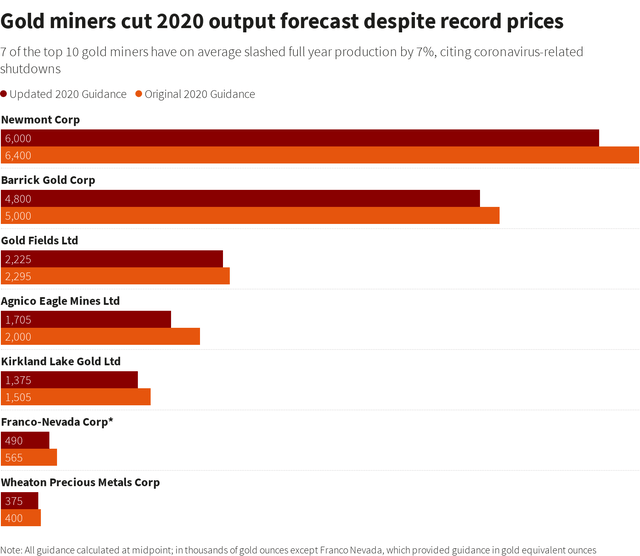 Source: Reuters
Normally, rising gold prices would be expected to stimulate increased output and M&A activity on the part of mining companies (the 2011 gold bull market comes to mind). But the fact that many senior and mid-tier mining company executives have opted to scale back spending on new projects is an encouraging sign for investors, for it will limit new gold production and thereby keep a tight lid on supply.
The potentially bullish impact of this decision as it relates to gold production cannot be understated. Indeed, it provides yet another support in a growing list of supporting fundamental and psychological factors for the continuation of gold's rising price trend.
We've discussed some of these key factors in recent reports; they include (but aren't limited to) the metal's improving "currency" component (thanks to a weakening dollar), plus the "fear factor" of increased retail investment demand for bullion due to COVID-related uncertainties.
On the currency front, the U.S. dollar index (DXY) continues to drag along its yearly low near the 92 level (below) as the heavy pressure of too much Fed-created money, coupled with the lower goods and services production related to this year's shutdowns, hasn't even allowed for a relief rally in the greenback. Sooner or later, though, a technical bounce in the dollar index can be expected. But there's not enough fundamental evidence, in my opinion, to warrant a significant turnaround in the dollar. Therefore, investors would do well to continue embracing a cautious posture toward the dollar and maintain inflation hedges.
Source: BigCharts
Before the dollar is ready to strengthen on a sustained basis, a complete and unrestricted opening of the U.S. economy will likely be required. Remember that the classical definition of inflation is "too much money chasing too few goods and services." So, until production levels have been totally restored to pre-shutdown levels across all major industries, investors should prepare for a continuation of the weak dollar trend.
An excellent way to hedge against currency weakness is, of course, owning gold. Gold's long-term track record in protecting against the ravages of currency weakness is unimpeachable. And ever since March, when DXY commenced its bear market, gold has proven its mettle as a safe harbor from a persistently weakening greenback.
And it's not just the Federal Reserve that is contributing to higher gold prices through its persistently loose monetary policy. Other governments and central banks around the world are doing their part to keep the global financial system awash in a floodtide of liquidity.
Most recently, the European Central Bank's (ECB) president, Christine Lagarde, encouraged eurozone governments to "keep spending heavily to aid the bloc's recovery from its historic pandemic-induced recession, complementing already super-easy monetary policy," in the words of a Reuters article. This single statement provides an excellent illustration of gold's dual support of currency weakness and the "fear factor" as it relates to the pandemic. And as long as these factors remain in play, investors should expect to see higher metal prices ahead.
Returning to the mining stock outlook, the PHLX Gold/Silver Index (XAU) has confirmed another immediate-term (1-4 week) breakout signal per the rules of my trading discipline. By closing two days higher above its 15-day moving average, the technical inference is that buyers have regained control over the near-term trend for the gold mining stocks as a group. Note also how closely the XAU has been hugging its psychologically significant 50-day trend line without breaking under it on a weekly closing basis. This confirms that the intermediate-term (3-6 month) trend for the miners is still up.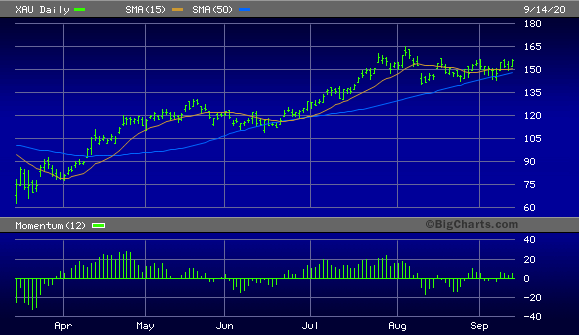 Source: BigCharts
Meanwhile, my favorite indicator for the gold stocks – the 4-week momentum of the new highs and lows for the 50 most actively traded miners – is slowly improving. After several weeks of declining, the internal momentum of the gold stocks is reversing, suggesting the buyers will have an easier time consolidating their control over the near-term trend.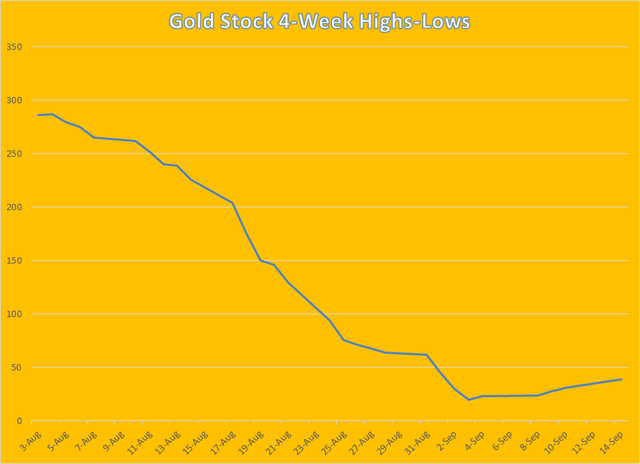 Source: NYSE
Ideally, this indicator should accelerate higher in the coming days, which would tell us that the bulls have established dominance. (I would be remiss if I didn't offer a stop-loss suggestion in case I am wrong and the trend goes against the bulls. Accordingly, I would regard a move below the XAU's 143 level – the nearest pivotal low from Sept. 8 – as a sign that the bulls have lost their nerve.) Nonetheless, I consider the above indicator chart as sufficient proof that the buyers control both the near-term and intermediate-term trends, and I think they should be able to maintain that control in the coming weeks.
In conclusion, a combination of positive factors ranging from a weak U.S. dollar, to widespread safe-haven demand over COVID, to diminished gold production among major mining companies should conspire to keep gold prices buoyant in the coming weeks and months. Accordingly, a bullish intermediate-term posture toward the physical metal and the leading mining shares (via a gold mining ETF) is warranted, in my opinion.
Disclosure: I/we have no positions in any stocks mentioned, and no plans to initiate any positions within the next 72 hours. I wrote this article myself, and it expresses my own opinions. I am not receiving compensation for it (other than from Seeking Alpha). I have no business relationship with any company whose stock is mentioned in this article.