BOK Financial: High Energy Exposure Is Likely To Slow The Share Price Recovery (NASDAQ:BOKF)
Investment Thesis
BOK Financial Corporation (BOKF) is a $46 billion in assets regional bank with branches in Oklahoma, Texas, New Mexico, Colorado, Arizona, Kansas and Arkansas. Relative to more retail centric community banks, BOKF primarily targets middle market corporations and small businesses. George Kaiser, an oil-magnate and billionaire own about 54% of the company. This allows BOKF management to have a longer-term strategic perspective focusing on cash on cash returns rather than quarterly earnings. From Kaiser's guidance, BOKF is also widely known as one of the better energy production lenders in the country.
From an investment perspective, BOKF has an attractive footprint with a significant presence in Oklahoma and Texas as well as a large energy loan portfolio. The bank also has a large and diverse fee income stream which comprises a large percentage of revenue. Moreover, the company has a stout capital base and capacity for sizable acquisitions.
However, with large exposures in COVID/pandemic sensitive industries like energy, healthcare and others as well as a similar valuation to its peer group median, I believe the stock will most likely under perform peers over the next 12 months. In terms of overall valuation, I think BOKF is likely to work back towards 0.85x to 0.9x of Price to Tangible Book Value per share, while peers either hold steady or grind higher.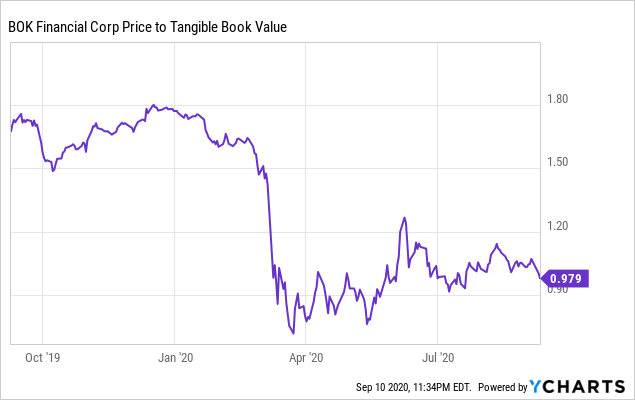 Thoughts On Credit
When compared to the first quarter, the second quarter of 2020 showed a rapid uptick in overall provision expense. The provision increased to $135 million from $94 million in 1Q20, driven by energy credit deterioration and changes in CECL assumptions related to macroeconomic pandemic factors. Energy credit deterioration made up $84 million of the provision and $14 million of that amount was related to the increase in specific energy loan impairments.
Net Charge-Offs (NCOs) were 0.25% of average loans, down from 0.31% last quarter. Non-performing assests (NPAs) rose to $405 million, up from $292 million, and now stand at 1.68% of loans. Finally, the loan loss reserve is now 1.80% of total loans (or 1.97% excluding PPP loans), which is my mind is a little low given the lending-risk exposures.
When looking back at BOKF's history of credit soundness, one can see that it does quite well, even with higher exposure levels to what are typically viewed as economically cyclical industries, like energy.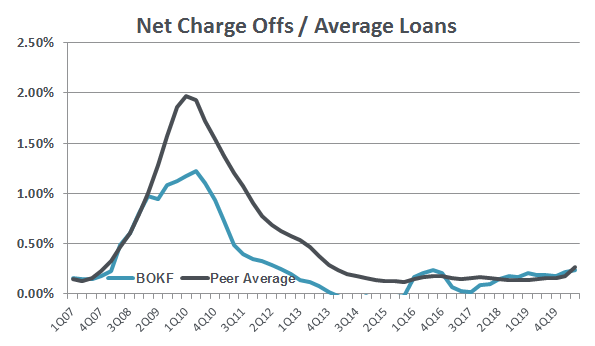 Source: SEC filings
One thing investors need to remember, in terms of energy loans, credit downgrades usually occur during the redetermination periods, which for oil based companies, happen twice a year. With the price of oil rolling over a bit, I would assume there are some lingering pressures on legacy clients as we wrap up the year. While the market has learned that the true price of oil extraction is much lower than it was in 2015, energy companies are likely to face debt servicing problems should the price of oil drift lower for longer.
The energy reserve is $176 million, or 4.42% of energy loans compared to 2.43% last quarter. On the second quarter call, management reiterated that the duration of lower oil prices is a larger contributor to potential losses than the absolute level of prices. Because of this, as we work into the second half of the year, I would expect overall criticized loans to increase for BOKF, putting upward pressure on provision level needs and hindering earnings growth.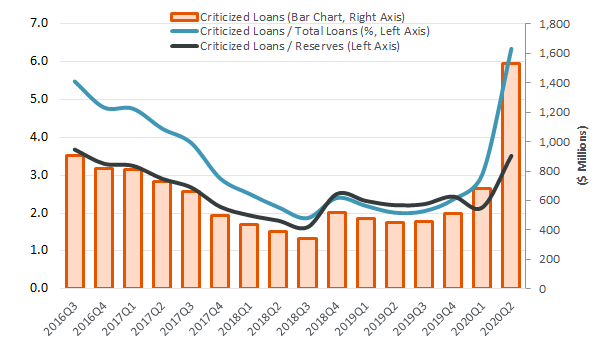 Source: SEC filings
If the price of oil stays where it is, I believe I will need to increase my NCO and provision estimates to reflect more reserve build and higher losses. Energy loans make up more than 16% of loans. If you were to combined pandemic sensitive industry exposed loans (which total ~7%) with energy loans, one would notice BOKF has about 23% of its loan portfolio experiencing sizable amounts of economic pressure.
My Revenue Outlook
In the second quarter, spread income grew 6% from the first quarter and was aided by $13 million in net interest revenue related to PPP loans. The net interest margin (NYSE:NIM) increased sequentially by 3 basis points. The reduction in funding costs and balance sheet positioning more than offset the decline in asset yields from PPP loans and Fed rate cuts in 1Q20. Period end loans grew 8% from the prior quarter on PPP fundings, and record low CRE paydowns offsetting soft demand.
Fee income surged higher, up almost 29% sequentially and 35% year over year, as mortgage revenue from both strong mortgage production and sale prices helped the overall performance. Also, brokerage and trading fees on better mortgage backed securities trading volume aided the franchise. Mortgage banking surged a mouth watering 46% sequentially. Breaking it down, refinancing was 57% of the mortgage production, while gain on sale margins were up by 62 basis points sequentially.
Fee income for BOKF will likely remain strong near term as brokerage/trading activity levels remain elevated and mortgage banking benefits from a seasonally strong third quarter. Finally, in terms of fee income, wealth management momentum is likely to continue with solid activity and pipelines in corporate trust and retirement servicing.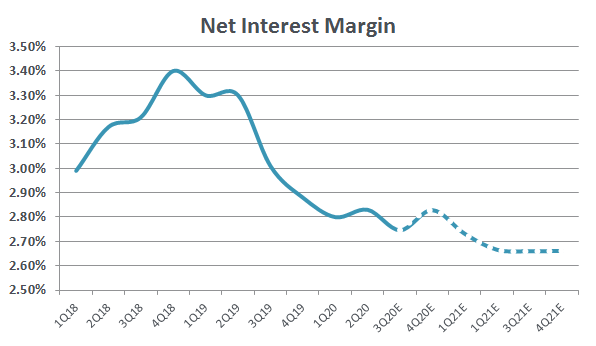 Source: SEC filings and Author's Estimates
Going forward, the NIM will likely see some pressure in 3Q20 as there is limited room to lower deposit costs further. I also think overall loan growth is likely to slow, since 1H20 is skewed upward from credit line draws.
In terms of overall revenue, I think 2H20 is likely to continue to hold in there well, largely being buoyed by mortgage banking and other fee income items. Going into 2021, I think the real headwinds will start to catch up with the income statement and overall revenue generation will take a step down.
Expense Management
Operating expenses increased 10%, primarily from higher incentive and deferred compensation. The efficiency ratio was ~58.5% versus 59.5% a year ago. From the second quarter call, it sounds like management believes that expenses should be stable over the near term.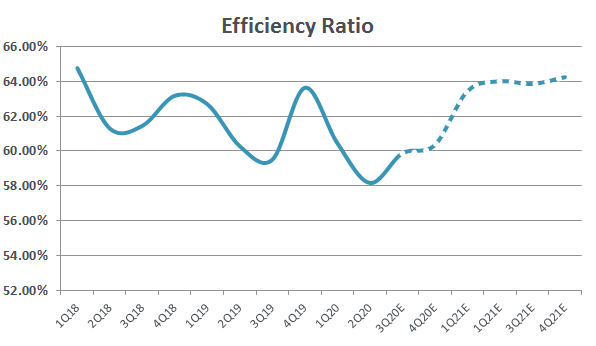 Source: SEC filings and Author's Estimates
While my modeling does agree with management's guidance of limited expense growth, I do have the efficiency ratio going higher, almost entirely due to compressed revenue trends.
Conclusion
To start things off, let me just say, I think the bank is going to be fine in the long run… However, the share price is a different story. With such high concentrations in energy, I would think significant economic growth would be necessary to help clear the energy storage glut.
I'm no expert on oil, but it seems like that takes months and quarters to happen, whereas most other banks lend to wider diversity of industries and have limited commodity risk. Since stock prices are forward looking, my assumption is that once we see some economic recovery, BOKF will be one of the last few banks to trend higher.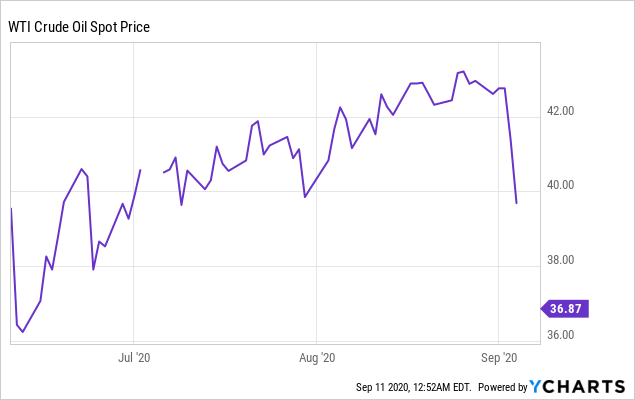 Since overall profitability is likely to continue to be compressed, and future provisioning levels could continue to increase if energy gets worse, I would look at other banks for potential investment opportunities.
BOKF currently trades below tangible book value per share, which should limit outsized share price compression. While shares might not go significantly lower from today's levels, my bearish rating is based on BOKF lagging bank peers over the next 12 months.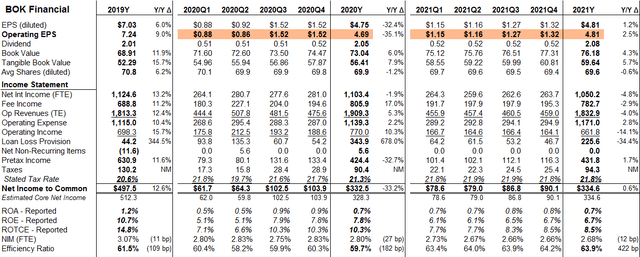 Source: SEC filings and Author's Estimates
Disclosure: I/we have no positions in any stocks mentioned, and no plans to initiate any positions within the next 72 hours. I wrote this article myself, and it expresses my own opinions. I am not receiving compensation for it (other than from Seeking Alpha). I have no business relationship with any company whose stock is mentioned in this article.