Cigna analysts weigh in on potential sale of Medicare Advantage business (NYSE:CI)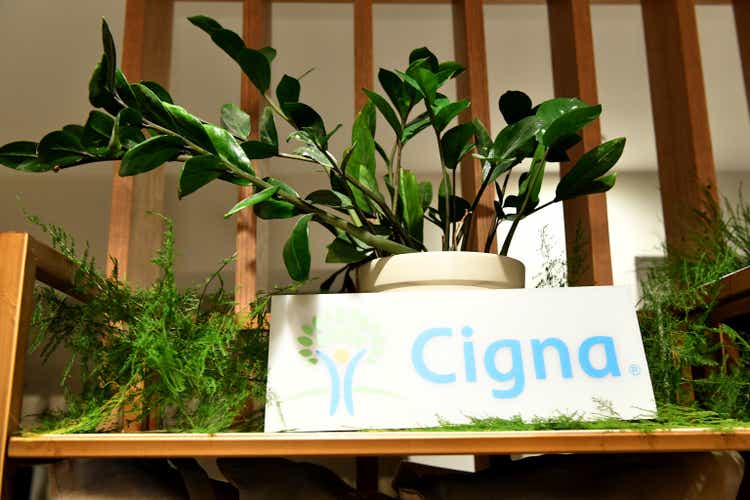 Cigna analysts said that Cigna could be looking to sell its Medicare Advantage business to grease the tracks for a larger acquisition in the government services space.
Earlier this week, Reuters reported that Cigna was considering a sale of its MA business to another company or private equity firm at a time when the government was beginning to tighten reimbursements to insurers. Reuters added that talks with possible buyers were in the early stages and that the insurer could decide against selling the business.
Cigna currently has a roughly 2% stake of the Medicare Advantage market, with around 600K members in 30 states. The business is expected to generate around $8.7B in revenue this year. In 2022, Cigna said that it considered government business a significant growth driver, with a targeted annual growth rate of 10% to 15%, according to a recent Goldman Sachs note.
Goldman noted, however, that the size of Cigna's MA business was "well below" its peers, and that it had identified government business as an area where it could grow via M&A.
"We note that Cigna is faced with further investment needed to scale this asset over the next several years and could look for alternative exposure to the government space," adding that the company had been reportedly mulling a major M&A deal in the area.
Goldman said that per Cigna management, an M&A deal would need to be "accretive in Year 1, strategically aligned, generate an attractive ROIC, and have a high probability of closing in the current regulatory environment."
Goldman noted that the price per member for MA deals stuck between 2004 and 2017 ranged from $800 to $15,600, with an average price of $6,100.
BofA, in a recent note, said that Cigna's MA business could be valued between $3B to $5B, adding that it "couldn't judge" the sale without knowing what Cigna plans to do with the proceeds.
Using the proceeds to invest in "fast-growing" healthcare assets or using the deal to "create a clean slate" for a bigger government-focused deal "would help give investors a clearer sense of a growth story within Cigna," it added.
BofA also said that it believes that Cigna wouldn't consider a sale it if saw a "clear path" towards gaining market share and getting back to its target margins. It noted that Cigna "acquired its way" into the MA market through its takeover of HealthSpring in 2012 and has since seen its market share slide from 4% to 2%. In comparison, rivals United Health (UNH) and Humana (HUM) have seen their combined market share climb from 37% to 47%.
Wells Fargo, meanwhile, said that it was "somewhat surprised" to hear that Cigna was interested in selling its MA business "given the growth profile" versus its US commercial business, but that "future M&A may be a consideration."
The investment bank said that while Cigna's MA business contributed 21% of its premium revenue in 2022, it's been operating below the company's target margins of 4% to 5% and is expected to continue to do so in 2024.
"While Cigna's MA business does not have material market share, the sale could potentially position the company to opportunistically evaluate large-scale M&A in the future, particularly under a different administration, given it would have no MA or Medicaid overlap to consider," Wells Fargo wrote.