Independent Bank Group: A Solid Texas Bank To Buy For The Long Term (NASDAQ:IBTX)
Investment Thesis
In my view, Independent Bank Group (IBTX) offers superior profitability, relative to every other community or regional bank, as capital is fully levered and the significant stock ownership by management creates strong C-Suite alignment with shareholders.
Fundamentally speaking, I believe potential shareholders should only buy this bank if they are expecting to hold this bank for the long term. While shares have obviously rebounded sharply since the March lows, I am positively biased on the company's growth prospects and fundamentals now that the Texas Capital (TCBI) merger did not transpire.
From a share price perspective, I believe IBTX could see another 15% upside over the next 12 months. While this level of price appreciation might not sound too exciting, I believe IBTX is likely to outperform bank peers year after year as earnings continue to grow at a faster rate than the average peer bank.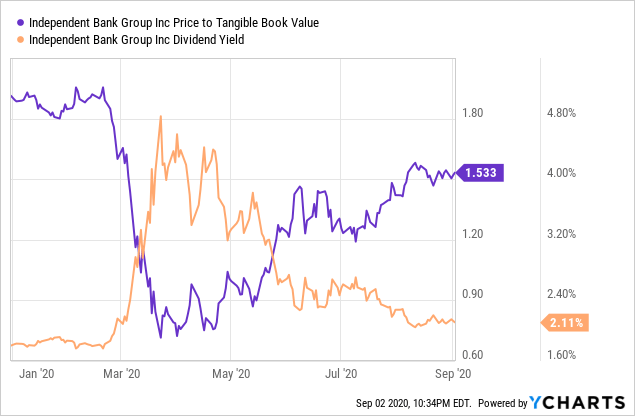 My Third Quarter Outlook
While the United States economy has seen a noteworthy rebound from the recessionary depths seen earlier this year, I am not expecting any significant upside to IBTX's overall balance sheet growth throughout the rest of 2020.
When the economy becomes turbulent, banks and their respective lenders hunker down and limit new loan growth. For most banks I follow, I am actually modeling slight balance sheet shrinkage as older loans run off and a limited number of new relationships are added.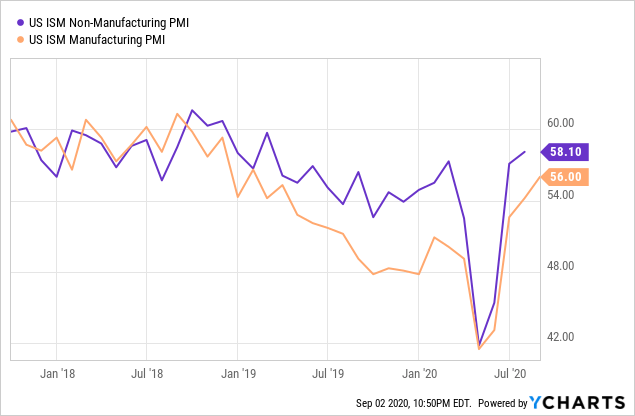 For Independent Bank specifically, I am expecting loan shrinkage of just $400 million (or just 2%). While this might sound counter-intuitive to a buy rating, I believe the management team is one of the best in the country and would be willing to allow for balance sheet shrinkage before risking the credit profile in order to simply grow for the sake of growing.
Also, the interest rate environment continues to be challenging, but as PPP loans begin to be forgiven in 2H20, the net interest margin should show some temporary strength. I am modeling 3.59% for the third, which is actually a sizable increase in the margin, allowing for the net interest income to grow linked-quarter.
As we have seen in the first half of the year, the answer to "what's the provision going to be" continues to be the question atop almost every investor's mind. For IBTX, I am expecting the provision to be a little lower than the $23 million seen in the second quarter (currently modeling $18 million). While the basis of my expectation isn't routed in poor credit, it's actually a precautionary step to increase the reserve in order to have a seamless transition into CECL accounting.
Recent Fundamental Analysis
In the second quarter, IBTX reported net income per share of $0.90. After excluding $15 million of expenses related to the now terminated acquisition of TCBI, COVID-19 related costs, and recoveries on loans charged off prior to acquisition, I came away with an operating EPS of $1.14.
Net interest income was $129.3 million for 2Q20 compared to $124.2 million in the first quarter. Most importantly interest earning assets (which includes both loans and bonds) increased over $1.5 billion from the first quarter base of $13.2 billion. The increase was mainly driven by an uptick in average loan balances, which does include both PPP related loans and mortgage warehouse loans (both of which are very short lived), as well as some overall gains in average interest bearing deposits. Going forward, I am expecting PPP loans to be forgiven and come off the balance sheet, while management actively limits future loan growth in order to control credit soundness – hence the slight shrinkage.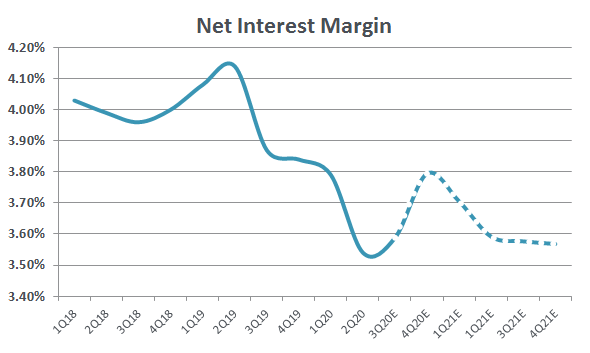 Source: SEC Filings and Author's Estimates
The reported NIM was 3.51% compared to 3.76% generated in 1Q. The 25bps compression was driven by a smaller level of accretion and a significantly higher than average amount of excess liquidity, both of which were headwinds to the core net interest margin to the tune of 20bps. After backing out accretion and non-core items associated with the margin, I came away with a core-margin of 3.32% for 2Q20 compared to 3.48% in 1Q20.
As you can see in the chart above, I am expecting the margin to bounce around a bit over the next few quarters, but stay at or near the current levels. While the loan yields are likely to continue to re-rate lower over the next few quarters, deposit costs are also likely to work lower too and hopefully provide some reprieve to the recent margin compression.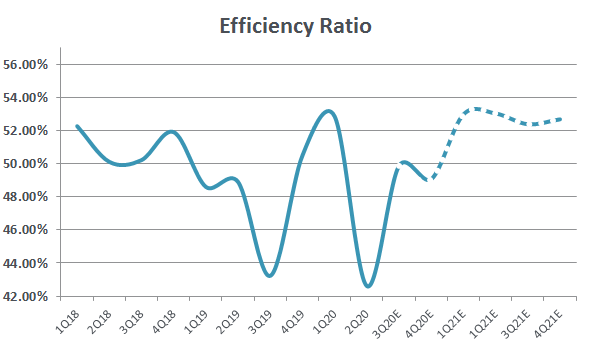 Source: SEC Filings and Author's Estimates
Total expenses increased $8.7 million in the second quarter when compared to the first. This headline number is deceivingly high since there was a $15.1 million acquisition related expense (associated with the failed TCBI merger).
Recall, the efficiency ratio is Expenses over Revenue, or in a more practical sense how many cents of operating costs does it take to generate a dollar of revenue. As you can see in the chart above, I am expecting the efficiency ratio to increase over the next few quarters. My projected increase is mainly driven by the shrinking denominator (revenue), rather than a growing numerator (expenses).
Credit Review
At the end of the second quarter, balance sheet reserve was $80.1 million (or roughly 0.68% of total loans held for investment). While this reserve is significantly lower than most regional peers, one thing that every bank investor needs to know, IBTX has not yet adopted CECL. While the accounting dynamics of the provision running through the income statement remain the same, the core basis of how reserve is set is fundamentally different. This is the main reason why I believe the provision is likely to remain a little elevated in 2H20, as management hopes to get the reserve to a CECL-compliant level, before officially transitioning over.
The second quarter provision was $23.1 million, a noteworthy increase from the $8.4 million seen in the first quarter of the year. According to the second quarter press release,
The increase was primarily driven by economic factors related to COVID-19 and energy prices as well as a $1.1 million charge off on a commercial loan and a $4.1 million increase to a specific reserve placed on an energy credit.
Total nonperforming assets (NPA) fell to $28 million in the second quarter. This equates to just 0.17% of total assets, which is pretty solid considering the first quarter was 20bps. Also, since only 6% of loans are on COVID-19 related deferrals, I would consider overall credit quality to be better than the average bank.
Conclusion
Independent Bank has an attractive Texas and, now, growing Colorado franchise focused principally on Commercial Real Estate lending. While its higher costing deposit base could provide some negative headwinds to net interest margin expansion, I personally view the bank to have stellar credit quality, even with the commercial real estate lending concentration. While shares have regained a premium since the merger termination announcement, I think IBTX's share price will continue to perform better than the average regional bank.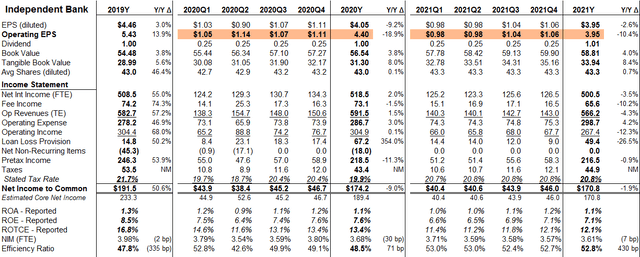 Source: SEC Filings and Author's Estimates
Disclosure: I/we have no positions in any stocks mentioned, and no plans to initiate any positions within the next 72 hours. I wrote this article myself, and it expresses my own opinions. I am not receiving compensation for it (other than from Seeking Alpha). I have no business relationship with any company whose stock is mentioned in this article.