Macro factors limiting near-term growth in dental market, Needham says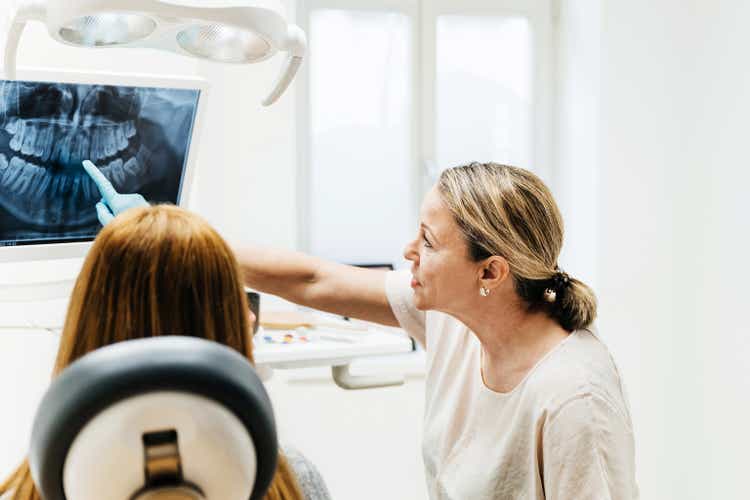 While the market opportunity for dental products and equipment appears to be vast, macroeconomic factors such as high interest rates and fluctuations in consumer spending will likely limit growth in the near-term, according to a note by Needham.
Needham said that the size of the current dental market is around $30B and expected to grow at a rate in the mid-single digits, driven largely driven by demand for emerging categories such as intraoral scanners, computer-aided design and manufacturing, value implants, and clear aligners.
Growth for core dental categories, meanwhile, has generally seen low single-digit growth. Core categories include endodontic/restorative products, traditional 2D/3D imaging equipment, procedural consumables, implants, and orthodontic brackets and wires.
Future growth could be accelerated by greater penetration, as only a small fraction of potential patients currently seek care. As an example, Needham noted that around 4B people worldwide have a missing tooth, yet less than 1% get a tooth replacement. Similarly, around 5B have malocculsions, with more than 500M able to afford treatment, but only around 20M start treatment annually.
Other potential growth drivers include an aging population, improved access to care, increased interest in aesthetic dentistry, and customer consolidation through dental service organizations.
Despite this, Needham noted that the sector has seen an overall slowdown in recent months, due in part to patients delaying or cancelling procedures. While such delays will likely create a backlog of demand, chronic staffing shortages could limit recovery.
High interest rates have also come into play by discouraging dentists from making new equipment purchases. According to Needham, an American Dental Association survey in May showed that approximately two-thirds of dental practitioners said they were not likely to make a major purchase within the next six months.
Citing Google search trends, Needham said that demand for dental implants appears to have softened in the past 90 days but remains stable for endodontic procedures such as root canals. For the week of Nov. 5 to 11, searches for dental implants were at 81% of pre-COVID levels, while searches for root canals were at 103%.
To this end, Needham sees Dentsply Sirona (NASDAQ:XRAY) as best positioned to weather this trend, with implants only accounting for about 10% of its total revenue, compared with 32% for ZimVie (NASDAQ:ZIMV) and 40% for Envista (NYSE:NVST). Meanwhile, endodontic and restorative, which includes root canals, account for around 30% of Dentsply's revenue and 13% of Envista's.
Needham has a buy rating on Dentsply, but hold ratings on Envista and ZimVie. Other key competitors in the space include 3M (MMM), Align (ALGN), SmileDirectClub (OTC:SDCCQ), Sonendo (SONX) and Straumann, none of which are rated by Needham.
Needham noted that while dental sector valuations appear to be "attractive," macroeconomic factors will probably limit relative multiple expansion in the near term.
"When the recovery does take shape, we believe the dental group's multiples could see meaningful relative expansion," Needham added.
More on Envista, Dentsply Sirona, etc.