Microsoft's Nadella wants to 'grab the opportunity' from AI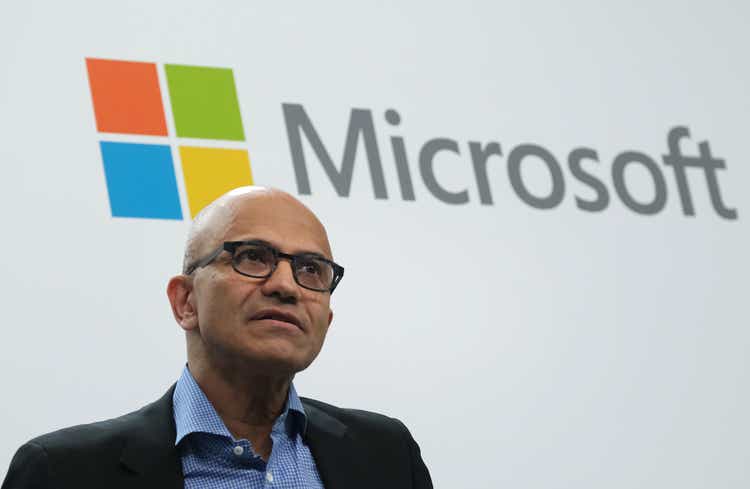 It was obvious from the start what was on Microsoft (NASDAQ:MSFT) Chief Executive Satya Nadella's mind as he spoke on a conference call Tuesday to discuss his company's fiscal third-quarter results. And it could be summed up in just two letters:
AI.
Of course, AI stands for artificial intelligence. But, by now, AI has become so ubiquitous a term that it was all Nadella, and Microsoft (MSFT) Chief Financial Officer Amy Hood, had to say to get the attention of Wall Street analysts, and anyone else who was listening in on the company's conference call late Tuesday. And the two made clear that AI isn't going to be passing fad for Microsoft (MSFT) will get bored of and forget about any time soon.
Nadella said that Microsoft's (MSFT) putting more investments into AI, and that the company is "not being shy about investing in where we need to invest to grab the opportunity" from the AI market.
"During these periods of transition, what's the opportunity set ahead," Nadella asked. "We have a differentiated play to go after that opportunity, and we feel we have a good lead and offerings up and down the [software] stack."
Nadella also went into a few details of what has come from Microsoft's (MSFT) multibillion dollar investment in, and partnership with ChatGPT developer OpenAI. Nadella said Microsoft's (MSFT) Azure cloud service has been one of the main outlets of that relationship, with more than 3,500 Azure/Open AI service customers using ChatGPT or GPT-4 language model technology. Nadella said that number is 10 times higher than just one quarter ago.
CFO Hood got in on the AI commentary as well, and said that as Microsoft (MSFT) strategically manages itself, "We will continue to invest in AI infrastructure resulting in revenue to grow over time."
While AI has become a hot topic of late, there have been some calls for governments to put in new guidelines and practices to ensure the security of individuals in the new AI world.
But, with regards to technological safeguards, Nadella said Microsoft (MSFT) isn't waiting for regulations to be implemented from Washington, D.C. to tell the company what to do.
"We think about things and build in all the safeguards now and hold ourselves to an internal audit," Nadella said. "Essentially, we feel good about putting trust into the systems we put out there."
Nadella's and Hood's comments came as Microsoft (MSFT) shares rose almost 9% in after-hours trading following what was a better-than-expected fiscal third-quarter earnings report.