Sanofi stock rises as Dupixent shows benefit in lung disease smokers, meets phase 3 goals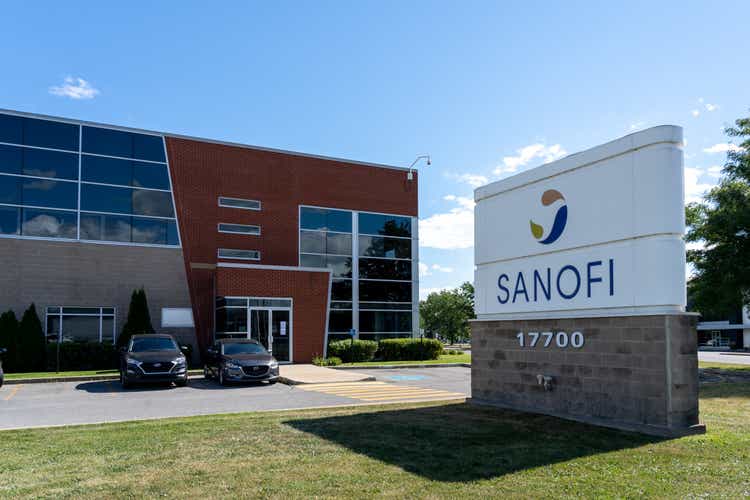 Sanofi (NASDAQ:SNY) and Regeneron Pharmaceuticals' (NASDAQ:REGN) Dupixent met the main goal and all key secondary goals of a phase 3 trial to treat adults who were current or former smokers with chronic obstructive pulmonary disease (COPD).
The French pharma giant said Dupixent (dupilumab) showed the potential to become the first biologic to treat COPD by showing significant reduction in exacerbations in trial.
The late stage study, dubbed BOREAS, enrolled 939 adults, who were current or former smokers aged 40 to 80 years with moderate-to-severe COPD and evidence of type 2 inflammation. The patients received Dupixent (n=468) or placebo (n=471), added to maximal standard-of-care inhaled therapy (triple therapy). BOREAS is one of two trials in the Dupixent COPD program.
Patients on Dupixent experienced, 30% reduction in moderate or severe acute COPD exacerbations over 52 weeks, which was the main goal of the trial.
Sanofi said Dupixent is the first and only biologic to demonstrate clinically meaningful and statistically significant reduction in exacerbations compared to placebo.
In addition, the company said Dupixent is the first and only biologic to show rapid and significant improvement in lung function.
Patients receiving Dupixent showed improved lung function from baseline by 160 mL at 12 weeks compared to 77 mL for placebo, with the benefit compared to placebo sustained through week 52, both of which were key secondary goals of the study according to the company.
Dupixent also showed improvements in quality of life and respiratory symptoms of COPD, according to the company.
"We took a bold approach with our direct to Phase 3 program, shaving years off standard clinical development timelines. We are excited to share these unprecedented and potentially paradigm-shifting clinical results, which may give new hope to patients, caregivers and physicians," said Dietmar Berger, head of Global R&D ad interim and chief medical officer at Sanofi.
The company said safety was generally consistent with the known safety profile of Dupixent. Overall rates of adverse events (AEs) were 77% for Dupixent and 76% for placebo.
The companies plan to share the results with results with regulatory authorities.
COPD is a respiratory disease which damages the lungs and causes progressive lung function decline. Smoking is a key risk factor for COPD, but even people who quit smoking can still develop the disease, according to the company.
SNY +6.39% to $51.91 premarket March 23