S&P 500 Weekly Update: Composure Is Crucial As The Markets Search For Near-Term Direction
not selling stocks because

"The eyes are more exact witnesses than the ears." – Heraclitus
With the Labor Day Holiday last weekend marking the official end of summer, investors had a three-day weekend to ponder what lies ahead. Reading material seemed to be slanted in one direction, and this isn't so surprising given the huge rally off the March lows. Some have been salivating for any market weakness to validate their wrong-footed theories. So investors had their choice of what headline to dive into first.
Yes, The Crash IS Coming

Four Causes for the U.S. Stock Bubble

Be Safe From a Market Crash With These Undervalued Stocks

Stock Pullback: Assessing the damage

Beware The Bubble

The S&P 500 IS Not Diversified And Looks Quite Risky

U.S Stock Market; It's a Bubble, Plain and Simple

The Stock Market Flood Gates May have Just Opened

The House Of Cards Is Ready To Crash

The Stock Market Has No Ben This overvalued In 40 Years

NDX: a 75% Crash Should Surprise No One"
On that last headline, I have to say that would surprise me. Then again I rarely take the "easy" stance, the one opinion that is in line with the rest of the crowd. Since April, the easiest message to deliver during the entire rally was to call for a pullback. It was easy to tell everyone during the COVID mania that stocks couldn't be bought and there was more pain ahead. It was very easy to call for the stock market to get back in line with Main Street with lockdowns still in place.
The difficult message to deliver was the view that developments on "Main street" throughout the world were already showing up in stock prices. Not many saw it that way. It's too bad because it led to a 55+% S&P rally off the lows. The Nasdaq easily beat that by posting a 75% gain in that time frame. So in my simplistic view, it's unrealistic to take on the stance that for example forecasts the Nasdaq composite falling by 75% when the evidence that we are looking at today does not substantiate anything close to that. However, each can draw their conclusions, and position themselves based on those types of forecasts.
A catchy title is always a great idea, but it might be refreshing to see one that says, "The Pause Is Here". After the oversized rallies in the last five months, that is what is occurring. It might also be called the "common sense" view of the situation. While any or all of those dire forecasts "may" come true, many if not all of them are based on emotion, a "feeling".
No amount of investment experience and market savvy can overcome emotion. That will be the bane of investors as long as there is a stock market. Instead, the better path to success continues to look at the data from ALL angles and make decisions based on ALL of the evidence.
The Week on Wall Street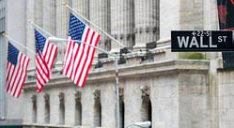 It appeared traders were a little late to realize that it was September. After two days of gains to kick off the month, things got much dicier in the last several days, and the trading week started as a "selling event".
U.S. equity markets got slammed by the ongoing collapse of tech on Monday, with the Nasdaq 100 down almost 5% and S&P 500 Tech off almost as much, leading to an aggregate large-cap decline of 2.6%; small caps fared better, down 1.7%
The indices that lagged (Russell 2000 -2.0% and the Dow Transports -.1.2%) were the best performers of the day. The S&P 500 saw the weakest breadth since late June with decliners outnumbering advancers by worse than 8 to 1.
Within the Nasdaq 100, the top end of the index has been the biggest driver of declines since the peak last week as the top four stocks by contribution (AAPL, MSFT, AMZN, GOOGL) cost the index more than all other stocks combined. Higher-fliers were much harder hit: TSLA's $5bn secondary has sent it down 25%; SaaS names like DOCU, ZM, and CDNS have also been hit as well as semis names like KLAC, NVDA, and AMAT.
"Turnaround Wednesday" saw equities turn around with the S&P 500, notching its best day since June with positive breadth numbers of roughly 4:1 to match. The S&P and NASDAQ were the leaders gaining 2.0% and 2.7% respectively. The stocks that have been hit the hardest over the past week saw the largest price gains.
On the other hand, some of the best performers averaging a 2.1% from September 2nd to September 9th, a group that includes many reopening stocks like cruise lines, retailers, hotels and resorts, etc. averaged a 0.36% loss on the day. Money rotation as investors can't make up their mind if they should abandon growth and get involved in "value".
Investors abandoned everything on Thursday as all 11 sectors closed in the red. The tug of war was on and it occurred between the short term support and resistance levels. Most if not all of the gains evaporated with the S&P down 1.76% and the NASDAQ losing 2%. Both indices closed the day teetering on support levels.
Friday's market action was a microcosm of the entire week. Volatility with quick and wild intraday swings. When the dust settled, it was a mixed picture. The action looked like a typical money rotation event. The Nasdaq sold off -0.60%, the Dow was up 0.48%, Dow Transports gained 0.93%, and the S&P was flat. At the sector level Materials, Homebuilders and Industrials were up more than 1%. Financials gained 0.70%.
After enormous rallies, the S&P and Nasdaq have posted back-to-back weekly losses as a reversion to the mean takes center stage. The indices are up 3% and 21% respectively for the year.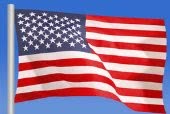 Economy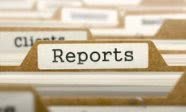 This week's PPI report beat estimates with August gains of 0.3% for the headline and 0.4% for the core, following out-sized respective June gains of 0.6% and 0.5%. The price indexes continue to rebound after the big coronavirus hits in March and April. The upside surprise reflected a 1.2% August surge for service prices thanks to a 1.2% rise for trade services, which reflects margins of wholesalers and retailers.
The U.S. CPI report beat estimates with August gains of 0.4% for both the headline and the core, following July gains of 0.6% for both, and respective June gains of 0.6% and 0.2%. The initial downside demand shock for prices has now been overrun by the boost from growing supply constraints, as evident with the huge 5.4% used car price surge after a 2.3% July gain, and a 0.6% apparel price rise that left a third consecutive big gain. On a moving average basis, CPI headline and core gains will soon be turning higher, after a downdraft into the pandemic.
NFIB released the results of small business optimism for August. The headline index rose 1.4 points to 100.2, slightly higher than July's reading of 98.8. Seven of the 10 Index components improved, two declined, and one was unchanged.
NFIB Chief Economist Bill Dunkelberg:
"Small businesses are working hard to recover from the state shutdowns and effects of COVID-19. We are seeing areas of improvement in the small business economy, as job openings and plans to hire are increasing, but many small businesses are still struggling and are uncertain about what the future will hold."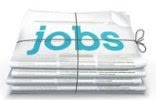 Last week's non-farm payrolls report was maligned by some, but the latest Job Openings and Labor Turnover Survey report does not confirm their views. The Bureau of Labor Statistics reports on the flows in and out of jobs as well as the number of job openings and this report was encouraging. It shows the return to normalcy is underway.
The number of open jobs as a percentage of the labor force has surged back to pre-pandemic levels and is close to the very strong levels seen at the prior peak. This is a good sign that labor demand is holding up pretty well in aggregate.
"Quit rates" are about the best indicator of labor bargaining power available. The report showed they have improved and improved sharply. They have not fully recovered from COVID's hit, but the size and speed of the bounce are consistent with a very strong trajectory for labor markets.
Bespoke Investment Group reports:
"There have only been 24 other months in the last 20 years where the monthly JOLTS Job Openings Index was higher than it was in July."
A stable week for jobless claims. For the first time since August of last year, initial jobless claims were unchanged this week relative to last week's 3K upwardly revised number of 884K. That was above forecasts of a reading 34K lower at 850K. That current reading is still a very high level of claims relative to history, but is at the low end of readings since the pandemic began.

The Mortgage Bankers Association released this week's reading on mortgage applications. Seasonally adjusted purchases were up 2.6% from last week, rising to the highest level since the first week of July. In the past few months as housing activity has surged, other than that July reading, there was only one other time that purchases were stronger, and that was in the second week of June. Purchase activity is once again on the rise after pausing in the summer months and is currently back to some of its strongest levels since early 2009.

Global Economy

ECB keeps Pandemic Bond-Purchase Plan and leaves rates unchanged. While officials are becoming more confident in the rebound from the worst economic shock in living memory, the upturn has slowed and new risks lie ahead. Infections are rising again and the stronger euro could weigh on inflation. Economists expect the ECB to increase and extend bond purchases later this year.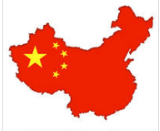 Chinese trade data was positive as exports beat expectations, jumping 9.5% from a year ago. Economists polled by Reuters had expected exports to have climbed 7.1% in August from a year ago compared with a 7.2% rise in July, while imports were expected to climb 0.1% in August from a year ago, reversing a 1.4% decline in July. The growth in exports was the fastest pace in one-and-a-half years, according to Reuters records.

Japanese Machine tool orders rose at an impressive 33.5% clip over the last three months since the bottom in May driven almost entirely but a surge in orders from overseas. Through July, that surge was a function of American and Chinese activity, with the EU's order patterns taking a similar shape to Japan's: stability, but no material bounce so far. In general, this data is consistent with a bottoming of global economic activity and some improvement since the Q2 lows.

The Bank of Canada announced its overnight rate would stay at low levels for years to come while signaling less aggressive asset purchases than it had previously opened the door to.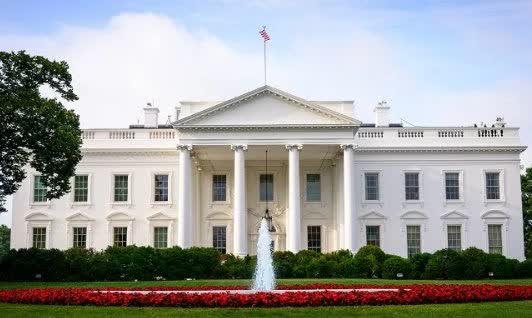 The Political Scene
No matter what political party an investor may be leaning to and no matter what you may believe will happen to your investments depending on who is the next president, all investors will face the same issue.
The distinct possibility that a "delayed" and or a "contested " result will wreak havoc with the equity market. Based on the dialogue on how this "vote" will be conducted, the probabilities of that occurring are increasing day by day.
Only a "landslide" victory by either candidate would cause that possibility to evaporate. Something to watch as the election draws closer.

The Fed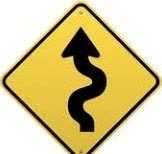 A trading range under 1% for the 10-year Treasury note has been in place for quite some time. After making a run to the top of that range in June, then testing the lows again, the 10-year bounced off the bottom and closed trading at 0.67%, falling 0.05% for the week.
The 3-month/10-year Treasury curve inverted on May 23rd, 2019, and remained inverted until mid-October. The renewed flight to safety inverted the 3-month/10-year yield curve once again on February 18th, 2020, and that inversion ended on March 3rd. The 2/10 Treasury curve is not inverted today.

Source: U.S. Dept. Of The Treasury
The 2-10 spread was 30 basis points at the start of 2020; it stands at 54 basis points today.

Sentiment
After a month in which the percentage of investors reporting as bullish in the American Association of Individual Investors (AAII) survey stayed above 30%, this week less than a quarter of respondents are bullish. At 23.7%, bullish sentiment is at its weakest level since the first week of August when it was 23.2%. Additionally, the 7% point decline was the largest one week drop in bullish sentiment since mid-June when it fell 9.9%.
The decline in optimism was met with a similar-sized increase in pessimism. The percentage of investors reporting as bearish rose 6.6% this week to 48.4%. That is the highest reading since the last week of July when bearish sentiment stood slightly higher at 48.4%. It was also the largest one week gain to bearish sentiment since June 18th.
History may not repeat but it is noteworthy that the S&P rose 6% after the similar bearish reading in July.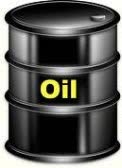 Crude Oil
Lost among the carnage in stocks is that oil prices dropped along with the major indices. Oil had been slowly drifting up in recent weeks, but not nearly at the same trajectory as moves in other commodities like gold, silver, and copper despite a weaker dollar environment. Perhaps that was a red flag and over the past week, WTI oil has dropped from around $43 to around $36. The Energy sector, naturally, has paid the price as the third worse sector over the past week behind Technology and the tech-heavy Communication Services.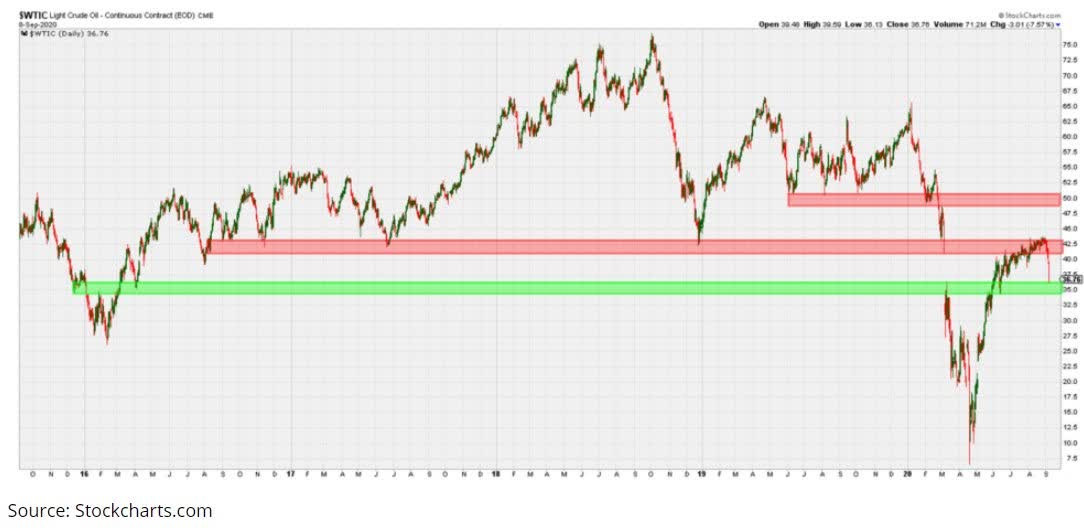 The price of WTI rose above the resistance level of $42.50 for a couple of weeks, but given recent price action that may be now viewed as a false breakout. Friday's close at $37.51 was down $2.05 from the prior week's closing price. That brings the two-week loss to a sizeable $5.49.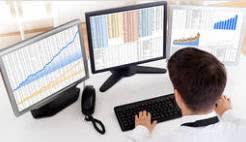 The Technical Picture
Readers should remember we have seen this very same chart pattern that is highlighted on the chart before. The index is caught between the selling pressure from the descending 20-day MA (Green line/3,404) and the support provided by the 50-day MA (Blue line/3,323).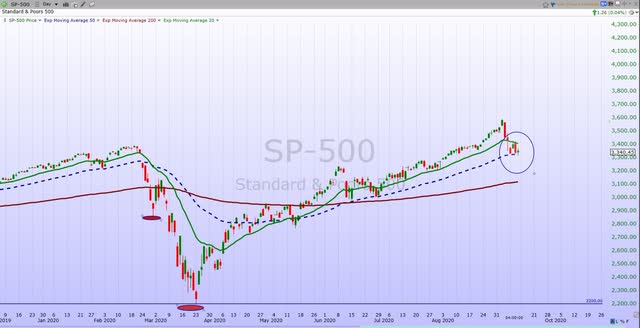 How and where the S&P trades from here is nearly impossible to predict in the short term. Both the Bulls and Bears can make a case for what takes place next. I'll leave the "guessing" to others that have a "feeling" of what is going to occur. When that is evident, it then becomes necessary to look at other technical indicators that may give investors a clue as to which way the index will break.
No need to guess what may occur; instead it will be important to concentrate on the short-term pivots that are meaningful. However, the Long-Term view, the view from 30,000 feet, is the only way to make successful decisions.
Short-term views are presented to give market participants a feel for the current situation. It should be noted that strategic investment decisions should NOT be based on any short-term view. These views contain a lot of noise and will lead an investor into whipsaw action that tends to detract from the overall performance.

Federated Hermes cited a report by the TIS Group citing revised Centers for Disease Control statistics that say Covid-19 is only directly responsible for 6% of the reported COVID deaths in the U.S., or around 10-11,000 people. The rest of the deaths reflect COVID as a contributing factor to existing illnesses, particularly among the elderly. From its perspective, this suggests the COVID story is pretty much over and that lockdowns and other measures that hurt the economy aren't necessary.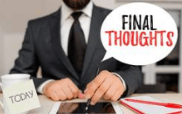 A few weeks ago, I mentioned that my strategy to buy stocks and staying invested in equities wasn't due to the notion we would have a coronavirus vaccine. Similarly, I'm not selling stocks because there could be a delay in the approval of a vaccine. Nor am I liquidating stock positions due to polls that show a very limited number of people will get it, or the fact it may not be effective.
My opinion remains the same. The world will learn to live with the virus. We have discovered who has to be protected, and how people can protect themselves. Advances in treatment have made a big difference in the length of hospital stays and deaths. Perhaps these issues improve even more as the medical community gathers more information on the disease. An issue that the majority never gave much thought to. Especially the crowd that kept telling me that COVID-19 was as a replay of the 1918 Spanish Flu.
For those that will disagree, I understand. Emotions can lead people to wild observations. However, I will remind them what I just described has already occurred. The Global PMI data for many countries shows a "V" shaped recovery for manufacturing and that is now translating into positive global trade data. Here in the U.S., Housing and Autos remain resilient and are indicators that portend well for the rest of the economy to start picking up.

It's not all rosy. Some of the roadblocks that were mentioned here months ago remain in place and others are grudgingly ever so slowly being removed. The rhetoric about the virus, the vaccine, stimulus plans, more reopening roadblocks, and the election will now ramp up to levels that are going to be a HUGE distraction.
The opening quote is all one needs to know when it comes to investing. When we translate that it simply becomes"
"Watch the data, avoid the noise."
How an investor handles that noise and distraction will tell the tale of how they will get through what could be a very difficult period. The actionable advice here that was been doled out for months remains the same.
This is a "Market of Stocks".
That strategy took full advantage of the equity market rally and will continue to do well during this "pause" or "corrective" phase.
Going forward, recognizing, then navigating the macro trends in place today will separate the successful investors from the also-rans.
I'll close by using a quote I heard from Josh Brown this week that fits in with my mantra perfectly:
"If you don't know who you are, the stock market is a very expensive place to try and find out."
My clients and members of my marketplace service are reminded of that at least once every week. Know yourself, know your situation. Invest accordingly.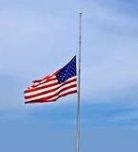 We will never forget. Take a moment, pay tribute, and remember the 9/11 victims.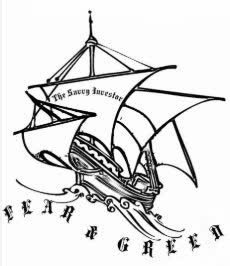 Please allow me to take a moment and remind all of the readers of an important issue. I provide investment advice to clients and members of my marketplace service. Each week I strive to provide an investment backdrop that helps investors make their own decisions. In these types of forums, readers bring a host of situations and variables to the table when visiting these articles. Therefore it is impossible to pinpoint what may be right for each situation.
In different circumstances, I can determine each client's situation/requirements and discuss issues with them when needed. That is impossible with readers of these articles. Therefore I will attempt to help form an opinion without crossing the line into specific advice. Please keep that in mind when forming your investment strategy.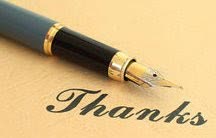 to all of the readers that contribute to this forum to make these articles a better experience for everyone.
Best of Luck to Everyone!

"A deeper correction, or new market highs ahead? Plenty of opinions around now. Learn to manage what YOU have in place today without getting whipsawed. Successful investors start at the macro level."
The Savvy Investor is here to assist. 2020 has been a difficult year and its one where trends emerged that many simply missed as they concentrated on the "noise".
The message was consistent and it kept members in tune with the new macro environment we find ourselves in today. Understanding these macro trends is crucial now. Please consider joining a group of investors that reaped the rewards of the HUGE market rally.
Disclosure: I am/we are long EVERY STOCK/ETF IN THE SAVVY PLAYBOOK. I wrote this article myself, and it expresses my own opinions. I am not receiving compensation for it (other than from Seeking Alpha). I have no business relationship with any company whose stock is mentioned in this article.
Additional disclosure: My portfolios are ALL positioned to take advantage of the bull market with NO hedges in place.
This article contains my views of the equity market, it reflects the strategy and positioning that is comfortable for me.
IT IS NOT A BUY AND HOLD STRATEGY. Of course, it is not suited for everyone, as each individual situation is unique.
Hopefully, it sparks ideas, adds some common sense to the intricate investing process, and makes investors feel calmer, putting them in control.
The opinions rendered here, are just that – opinions – and along with positions can change at any time.
As always I encourage readers to use common sense when it comes to managing any ideas that I decide to share with the community. Nowhere is it implied that any stock should be bought and put away until you die.
Periodic reviews are mandatory to adjust to changes in the macro backdrop that will take place over time. The goal of this article is to help you with your thought process based on the lessons I have learned over the last 35+ years. Although it would be nice, we can't expect to capture each and every short-term move.