UBS sees challenging backdrop for media & entertainment sector in H2 (NASDAQ:NFLX)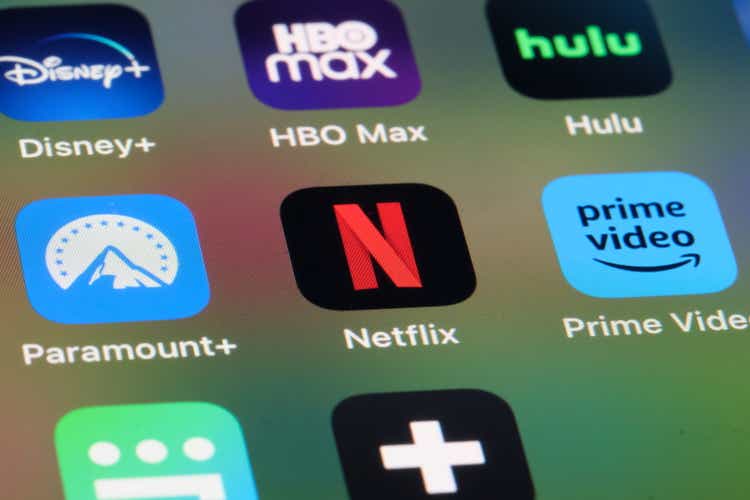 UBS on Monday said it continued to see a challenging backdrop for the media and entertainment sector in H2 2023, citing "sustained pressures" on television, minimal direct-to-consumer (DTC) subscriber growth and the impact of sport rights inflation.
Sector leaders Netflix (NASDAQ:NFLX) and Disney (NYSE:DIS) in their recent quarterly reports had contrasting fortunes in terms of subscribers, with the former's number improving sequentially and the latter seeing a third straight quarterly decline.
"DTC subscriber growth in the U.S. slowed dramatically in 2Q and studios answered with smaller content budgets, impairment charges, price increase announcements and a greater focus on profitability," UBS analyst John Hodulik said in a research note.
"The big question is whether these platforms can still grow subs against this backdrop because price increases and cost cutting alone won't sustain EBITDA growth and platforms risk becoming profitless, no growth businesses," Hodulik added.
Netflix (NFLX) executives in the quarterly earnings call said paid sharing was key to ramping up revenues this year, while painting a picture of a company pivot going according to plan. Disney (DIS) said it would raise prices on its streaming services.
"Subscriber growth in the U.S. has effectively ground to a halt and international markets are not proving to be the fertile hunting grounds the media companies envisioned when launching their DTC services. We estimate the U.S. added <2M subscribers in 2Q, the lowest tally since we began tracking the metric in 2017," UBS' Hodulik said.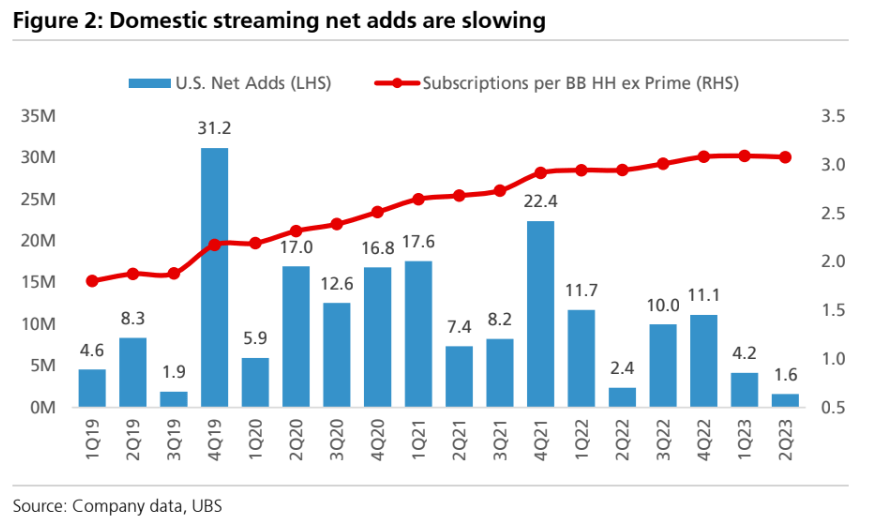 According to Nielsen data on TV delivery platforms, television usage bumped up only slightly in July during traditional TV's down season. However, streaming's share of usage climbed to a record high even as live TV continued a downdraft.
Weak Affiliate Trends
"Affiliate revenues are in clear decline with cord cutting solidly in the high single digit range. New skinny/streaming bundles from Comcast (CMCSA) and Charter (CHTR) could accelerate these trends for most network groups," UBS said.
Sports affiliate revenues in particular can be a key growth driver for media and entertainment companies, with many venturing into streaming offerings. Sinclair Broadcast Group (SBGI) has announced the launch of such a service, while Amazon (AMZN) is reportedly planning a stand-alone app for watching sports.
Moreover, Amazon (AMZN) has also been reportedly engaged in preliminary talks with Disney (DIS) over teaming up on a streaming offering of legacy sports-broadcaster ESPN.
"The bigger issue is the increasing availability of live sports outside of the traditional bundle. Warner Bros. (WBD) announced Max will carry its sports portfolio in October (for an up-charge) while sports is already a key component for Paramount+ (PARA) and Peacock (CMCSA). Fox (FOX) and ESPN do not enable live sports viewership outside the bundle (for the most part) but this looks set to change in 2025 and would likely take cord cutting to the next level," UBS' Hodulik said.
Advertising Remains Soft
"Second quarter TV advertising trends were soft despite relative stability in the broader economy as a combination of weak ratings and a stable scatter market kept results in roughly the same range as the previous 6 months," UBS said.
The advertising industry in general has seen a slight improvement in the second quarter, especially digital advertising. Facebook-owner Meta (META) and Google-parent Alphabet (GOOG) (GOOGL) both reported robust increases in advertising revenues in their recent earnings reports. TV advertising, however, has remained subdued.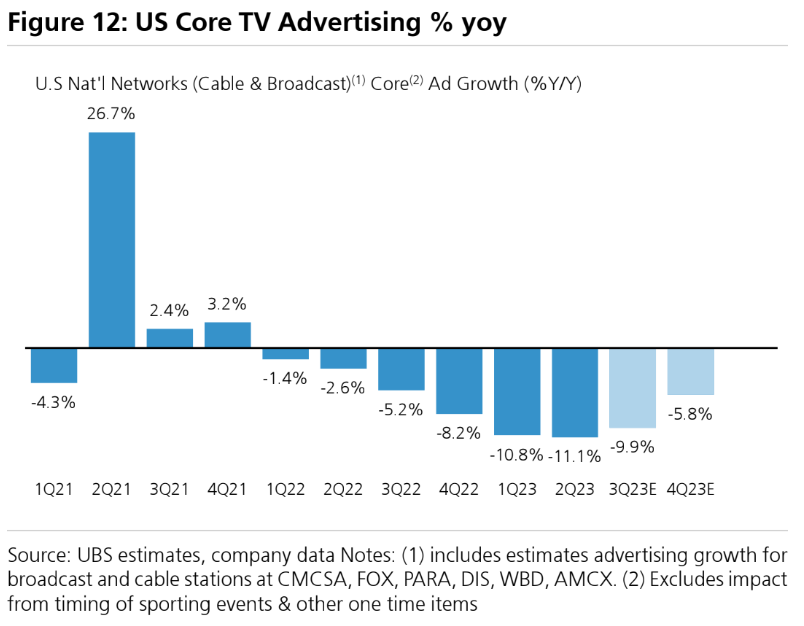 "Disney (DIS) had the best underlying trends at -8% in U.S. advertising (despite fewer NBA playoff games) while Fox (FOX) was also ahead of peers at -9% across TV and cable despite weaker ratings at FOX News with the Tucker Carlson departure," UBS' Hodulik said.
Sector stocks: Netflix (NFLX), Walt Disney (DIS), Comcast (CMCSA), Charter Communications (CHTR), Sinclair Broadcast Group (SBGI), Amazon (AMZN), Warner Bros. Discovery (WBD), Paramount (PARA), Fox (FOX), AMC Networks (AMCX), Endeavor Group (EDR), Apple (AAPL).
More on the media and entertainment sector